Get free updates of new post here.

It isn't always easy to run a digital agency.
Nothing loses an agency client faster than the frustration caused by inefficient processes and lack of policies.
Along with sales and marketing, hiring, financials, and client management, you're stressing to ensure you're getting results for your clients and deliver on your commitments. Even if you have qualified team members who can oversee these certain areas of your agency, you're still needing to lead them all.

To remain competitive and stick out from the crowd, it's important to improve operational efficiency for your agency wherever possible, especially for smaller agencies because they often have more limited resources than the larger ones.

Without consistently improving operational efficiency, it ultimately impacts an agency's ability to manage a client or collaboration relationship properly. When you commit to serving your clients swiftly, efficiently and effectively, it'll be like running a finely-tuned machine.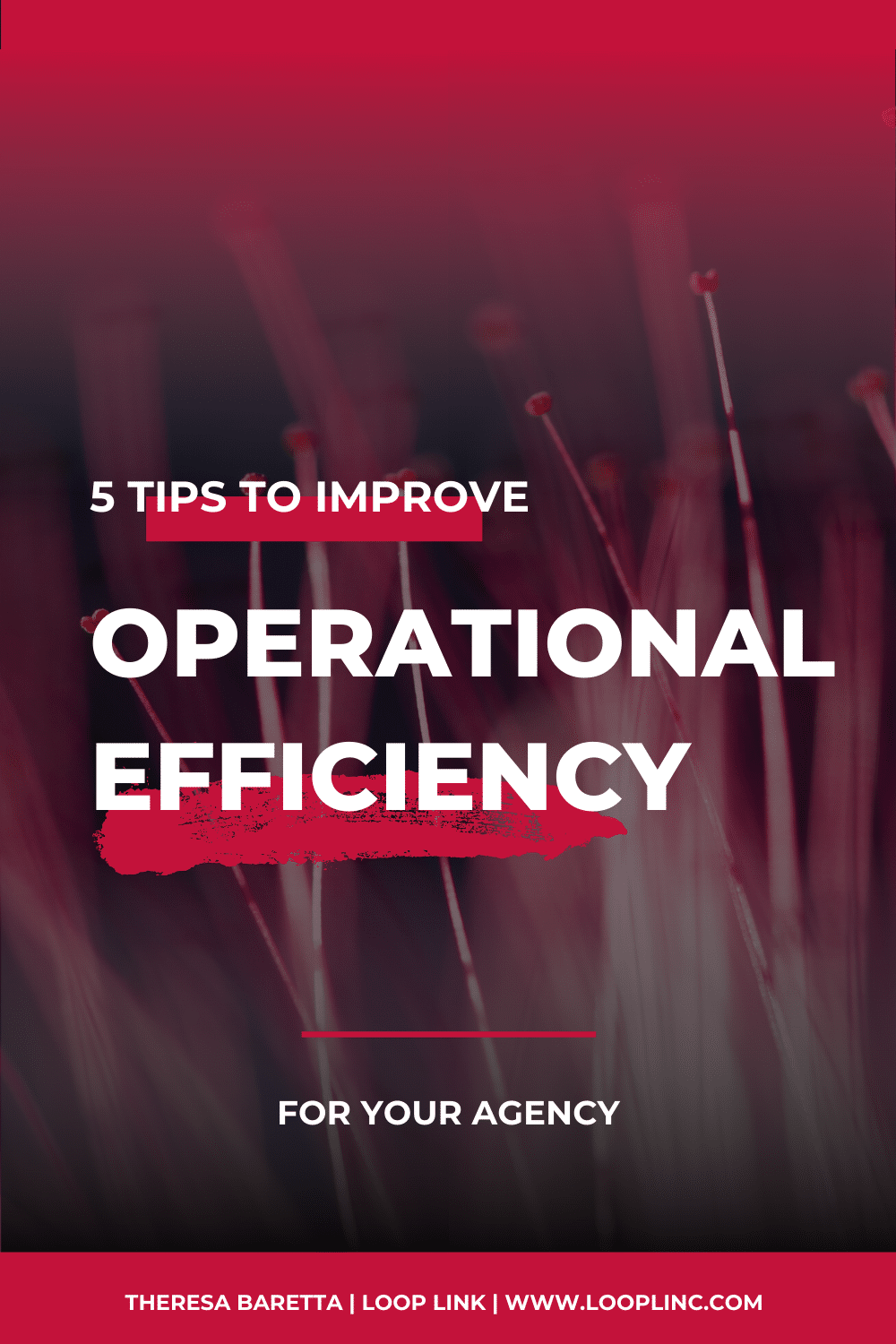 What Operational Efficiency for Agencies Look Like
Operational efficiency for your agency cannot be achieved by one person alone. It has to be a collective effort from your agency as a team and a unit. When it's achieved, here's what it can look like:

Client onboarding is smooth, structured, and leaves an impressionable experience that clients rave about
Team members are fully engaged and know how to respond and react to client needs with confidence
Client work and expectation are being met on a monthly basis with effective and clear communication
Effectively duplicate and scale your services predictably like clockwork and yield same results consistently
At the core of an efficiently-operated agency, it's the ongoing pursuit towards an experience that lessens frustration and activates a culture of excellence.

Why should it matter to your agency?
The business world that we currently live in is different than the traditional world we knew 10 years ago. This is how fast-paced we are evolving. In our active start-up culture, what sets a successful agency from the struggling ones is through continuous improvement.

Imagine an agency with less churn, less team burnout, and more client happiness.

I'm a firm believer that this is all possible if you address it from the inside out. The answer isn't to gain more clients to fill a leaking bucket, but to patch it up so you can continue to grow your agency sustainably and efficiently. Here are my top 5 tips to improve operational efficiency for your agency.
Tip 1: Measure Performance
"You can't manage what you don't measure." It's a timeless proverb that I've shared with countless clients I've worked with. Measurements provides continuous feedback to guide an agency's planning efforts, and provides a platform to assess priority improvements that allows for small and big wins.

The problem: Many agencies don't have standard performance processes in place. They rely on the satisfaction levels of their clients, or missed deadlines due to bottlenecks in their workflow. As the agency grows, operational meetings become less prioritized and replaced with the constant fire fighting of accounts and daily challenges.

The solution: Develop monthly scorecards, set an agency-wide objective and key results metric that is clearly communicated to all levels of business. Establish a non-negotiable operations meeting with team members to address challenges, standardize policies and review the operational performance.
Tip 2: Organizational Review
It takes a lot to run an agency. You have to ensure that your team is highly engaged and effective, tools are being leveraged the way they're intended to, and that communication is flowing consistently. Checking in with the state of where your business is at is critical so you can minimize redundancies and inefficiencies.

The problem: As an agency grows, the founders and leaders likely can feel that they need to add more to their team, but don't recognize that the core structure needs to change. Even as you add a strategic member to your team, if the commanding matrix does not shift, it can create unintentional bottlenecks and disorders.

The solution: Learning to adapt and let go is sometimes a challenge for some leaders. They are used to wearing multiple hats and roles within the agency; for example, the CEO who does sales and operations, or the CTO who does customer service and tech support. In a smaller agency, this is sustainable for a period of time but as you grow, an established organizational roadmap will help you determine which specialists to hire first to align with the vision and commitments to your clients.
Tip 3: Formalize Processes
Whether it's a written or video documentation, it should be present in your growing agency. There's a saying that "if it isn't documented, it doesn't exist". Without it in place, you lack a baseline and roadmap for process improvement.
The problem: While it's a deep need to get it done, time and resources are needed in addition to your current operational budget. Between serving your clients, or working on internal procedures, the priorities always falls to the clients. It's not only about documenting the process on how to complete tasks, it's also about clearly outlining and defining your policies.
The solution: Set up monthly meetings where you'll have a team member walk through their process. This is a perfect time to record the virtual meeting through Zoom or a Screencast for later documentation. If the process is simple and time is on your side, create a minimal viable process in a process management tool, such as Process St, Helpscout, or a Google doc. If you are reviewing a policy, ensure that it's clearly defined, communicated, documented and all team members know where to find it.
Tip 4: Set Expert Expectations
Agencies who struggle with "bad clients" often have missed setting expectations and outlining the communication matrix to them. There's nothing worse than a client project with misaligned roles and responsibilities internally.
The problem: A confused client is a confused and ineffective project. A lack of a project owner also creates an inefficient team. This is usually related to Tip #2, where team members are not clear, confident and empowered in their roles and responsibilities.
The solution: Always set a "point person" who your clients know to connect with. At the onset of a new client onboarding, outline the expectations; what's expected of the clients and what the clients can expect of your agency. A project should always have a leader/owner (usually can be a project manager, or account manager), and who can make decisions within the boundaries. By setting this clearly at the beginning, you're going to be have a well-run project or client management process and experience.

Tip 5: Limit Meetings & Conference Calls
We always strive to communicate well with our teams and clients, however, there is such a thing as over-communicating and having ineffective meetings. We have been taught that meetings and calls are effective and quick communication methods. It simply is counter intuitive.
The problem: Similar to email overload, there can be an overwhelm of meetings and conference calls with little fruit and actionable items. They are often the least productive and ineffective means towards accountability and execution. Most meetings are run inefficiently without agendas, targets and objectives. Instead, it eats away at time that could be spent accomplishing priorities.
The solution: When meetings are called, gather requirements, topics and determine who needs to be present. Always ensure that someone is taking notes and action items are assigned. When a meeting is prepared, the likelihood of bearing fruit and results will be increased. Even for short team meetings, ensure that it starts on time and ends on time. If a meeting consistently gets rescheduled, then all likelihood it isn't as important and you can do away with them.
Always Continue to Improve
Having a culture of operational efficiency for your agency is the heart of success. When you invest the time to figure it out on the front-end, it's going to benefit you downstream through all areas of your business from sales to operations and beyond. You'll establish leadership and a team that embraces your founding principles and vision.
Your Move
Do any of the above tips speak to you and provide you with strategies to improve operational efficiency for your agency? I would love to hear more about your approach to operational efficiency and how it will help your agency growth.
---
Come over to our Free Exclusive Community where you can find support from other CEOs on the same journey.