Get free updates of new post here.

If you're wondering how overwhelm happens so easily, it's due to the vast and unlimited supply of tools available.  While each social media tools has unique features it may and often does offer similar features to its competitors. That is ultimately how "they" suck you into using multiple tools with similar-but-not-quite-the-same functions. It's that ONE factor that sets them apart.
I'm a sucker for getting the latest fads, apps, and techie toys but I'm always cognizant of how to choose the right social media tools for my business that will not only be functional and practical but most importantly, efficient.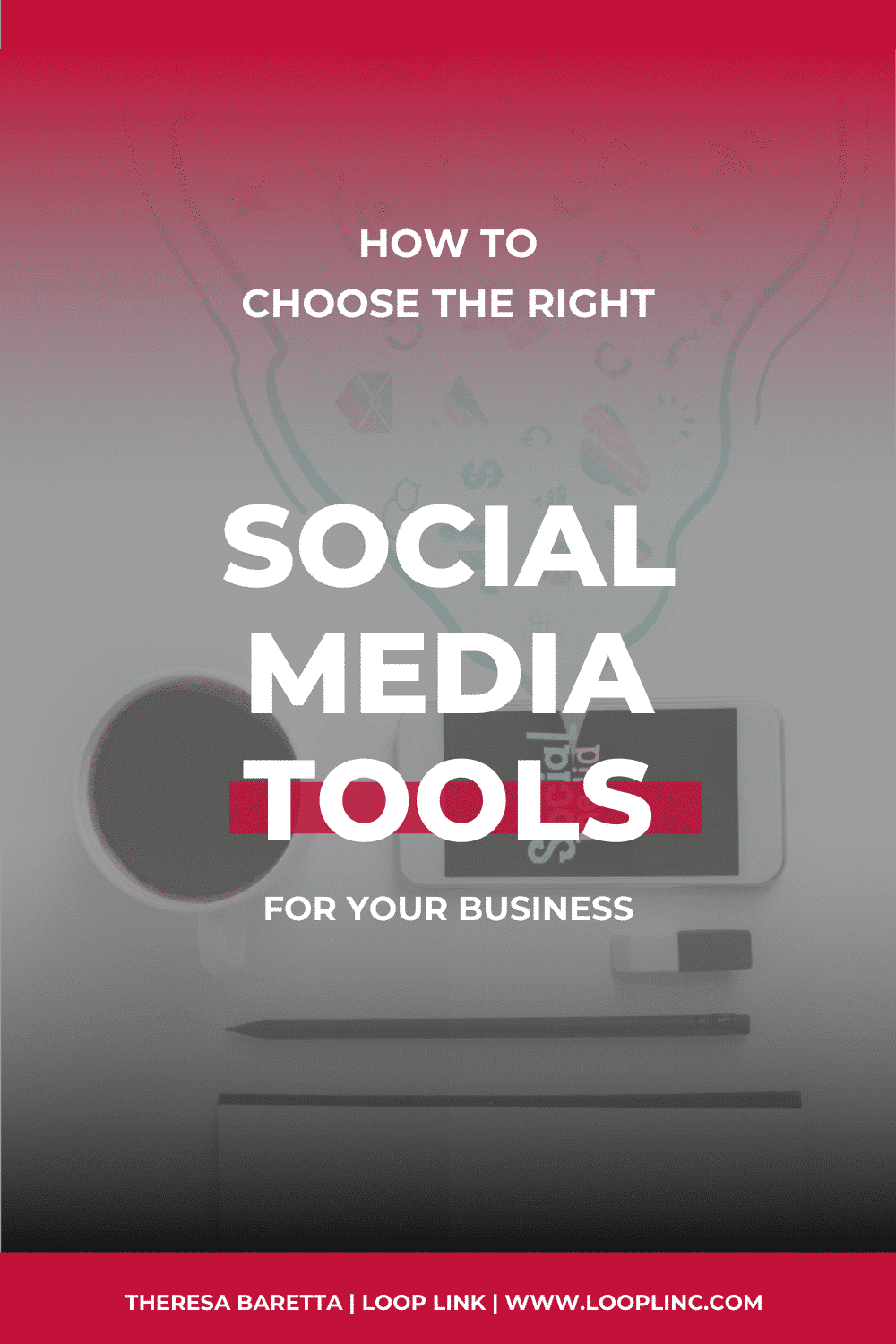 If you saw all the tools that were in my toolkit a year ago, you would wonder how I chose my toolbox and if I even had the chance to use them all. The simple answer is no. I couldn't (and didn't) use them all because if I did, there would have been a ton of redundancy! I spent more time entering in the same formula, details, and content than I did designing, developing and completing the task that I set out to achieve. This created a ton of shiny object traps. Since then, I've gone through my toolkit to validate each tool for its function, validity, efficiency, and workflow effectiveness.
Transforming the Mobile World
Years ago, I would have said that the internet and social media world changes fast. Today, I can tell the speed at which technology is changing is leaving me breathless as I work hard to keep up with it. Algorithms, interfaces, branding – you cannot get attached to everything you see because it may not be here tomorrow. Or it might have morphed and evolved.
The most prominent shift in 2016 that I've seen so far are efforts driving towards mobility. Gone are the days of being chained to your desk and laptop because all the apps and software you needed were on your desktop. Today, I can use my cloud to store all of my relevant documents. While I'm on my precious MacBook 12", designing images on Pixelmator, I can now save and access my designs from my smartphone (you guessed it, it's an iPhone 6!) and continue to work as if I was on my laptop. Of course, some usability (like fonts) gets lost in the mix, but it's a minor detail I can live with.
The fact is, that in today's world the winners are the ones who are supplying the ability for entrepreneurs, bloggers, and business owners to be able to work on the go. The ability to work beyond the office desk. This includes a vast list of social media tools for business that benefit you with:
Freedom to work on the go using your fingertips

Cloud apps that are mobile responsive

Work from anywhere at any time as long as you have wifi

Team members who can access the same information/work making handoffs easier
Choosing The Right Tools
So how do you go about selecting the right social media tools for your business? First, review your workflow and start at the end. What is the result? For example, if I want to be able to create a quick video on my smartphone, here's what the workflow would look like:
Create Video Intro

Create Video Content

Create CTA in Video

Create Video Outro

Create Blog Post / Social Media Content

Post to Social Media, drive traffic to website & video
To determine the right social media tools to use, I would need to ensure I have tools that can:
Create an intro and outro scene

Allow me to record video content on my smartphone

Edit the videos and tie them together

Create a blog post

Post on social media channels
To make this workflow productive, and efficient, here is an example of the tools I would use:
iMovie App:

Create intro/outro scenes with audio

Camera App:

Record core video message and content

iMovie App:

Video Editing

Evernote App / Scrivener App:

Create draft blog post

Buffer App: Post and promote to social media channels
Not too bad, right?
If you're curious about how to make mobile workflows efficient using the right social media tools for business, here's an Ultimate List of Social Media Apps rated by my genius friend Hello Beverley.
Your Move
Having an abundance of tools is not a great medal of honor. It may hamper your workflow (especially mobile workflow) if you're not careful to maintain and use only what is needed which is why I am a big believer in consolidating your business systems.
Do you have an approach to choosing the right social media tools for business? What do you have in your toolkit?
Come over to our Free Exclusive Community where you can find support from other CEOs on the same journey.