Get free updates of new post here.

Nothing feels better than reaching the point in your entrepreneurial journey where you have a steady roster of clients, you're making more than a livable wage, and you're ready to start planning for your next phase of growth.
Furthermore, you're no longer hustling day-to-day just to get clients in the door. Instead, your existing clients are sending you referrals, your sales funnels are producing results, and you're confident it's time to focus on making the clients you currently have happier than ever before.
Most likely, you already have some of the components in place. Maybe you have a welcome package you send to every new client. Or maybe you have an automated email sequence that is delivered to every customer over time.
What you haven't yet accomplished, however, is creating an all-encompassing, holistic client experience that completes all the loops.
Does this sound like you?
If so, it may be time to start building a client experience team.
What is a Client Experience Team?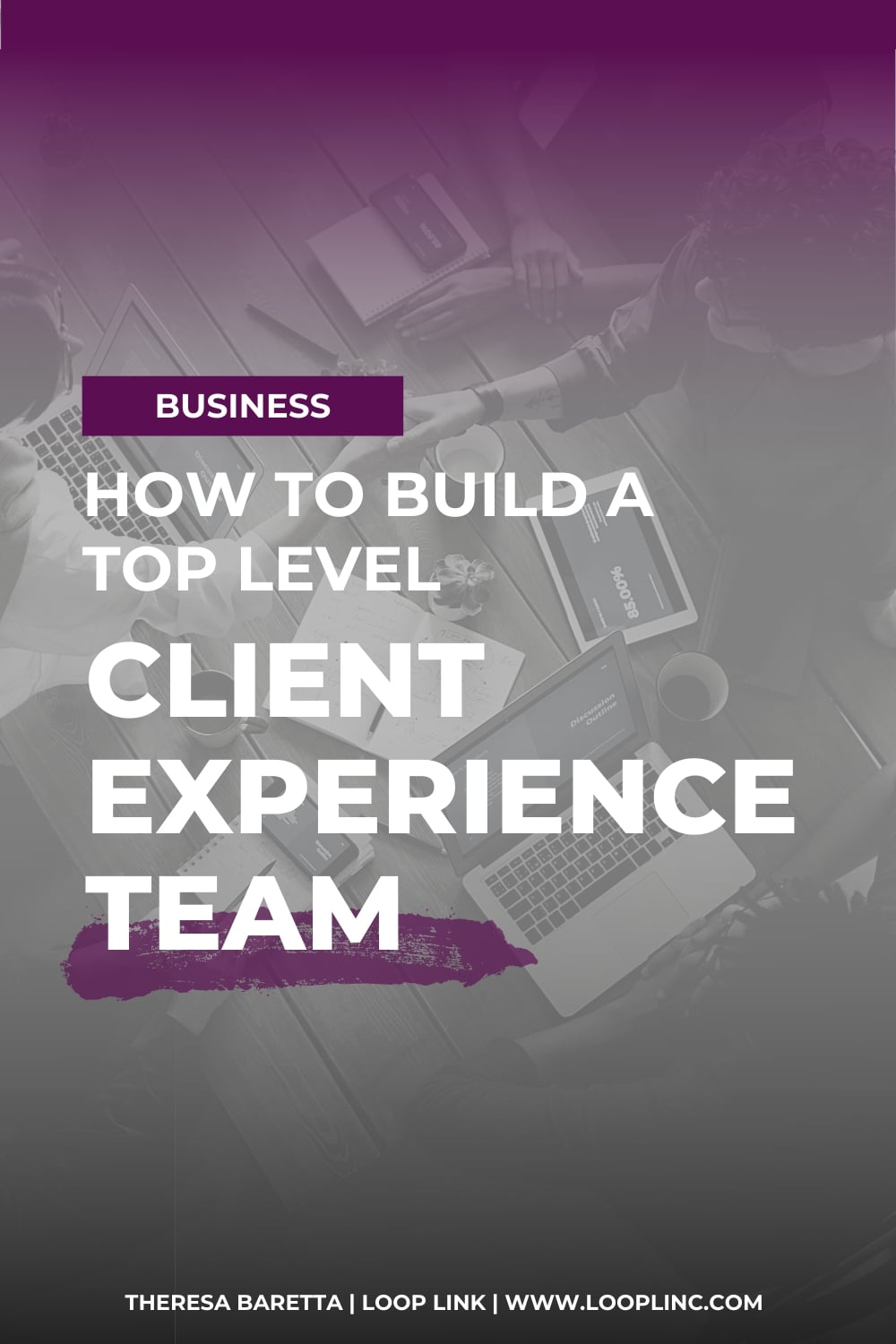 A client experience team refers to a cluster of professional roles within your business that are entirely dedicated to analyzing, monitoring, and optimizing every stage of your client journey in an effort to maximize success.
What is the Importance of a Client Experience Team?
Growth is the most common reason why creative consultants begin building a client management team.
The more your business expands, the more in-depth your CX strategy will need to be in order to deliver a 5-star experience to every client, every time.
As any experienced entrepreneur will tell you, it eventually becomes impossible to oversee all the necessary systems, strategies, and structures required to perfectly execute a CX strategy.
And since every $1 invested in client experience yields a return of $100, building a client management team isn't just critical to increase client success— it's also an extremely smart and lucrative financial decision.
When to Consider Hiring a Client Experience Manager
Client experience management is a key leadership position. Aside from you—the business owner— your client experience manager holds the most authority in terms of overseeing the bigger picture and overseeing the progress of your client experience initiatives.
Some responsibilities of client experience managers include:
Driving client retention and reducing churn rates
Mapping the client journey and identifying gaps or opportunities for improvement
Conceptualizing and implementing new strategies for delivery value to clients
Monitoring the success of client experience strategies
Training and guiding other team members
Signs You Need a Client Experience Manager
You have been so busy managing client work that it's distracting you from serving as the leader of your business.

You want to extend the life cycle of your clients but you don't have the time to develop a retention strategy.

There are gaps in your client experience but you don't have the available time to fix them.

You need someone to take accountability and ownership of client experience initiatives so you can get back to focusing on the overall operations and greater goals of your business.

Your employees constantly come to you for guidance and its hindering your ability to complete other projects.
Other Client Experience Roles
In addition to a client experience manager, creative consultants should consider these positions when building a client management team:
Client Specialist
A client specialist is responsible for executing your CX strategy. They use best practices to streamline client communications, identify patterns in client behavior, gather data, personalize solutions, and improve retention rates.
CX Designer
A client experience designer is responsible for constructing the frameworks of your CX strategy and ensuring they function as intended. These frameworks may include automated email sequences, mobile apps, sales funnels, customer service chatbots, and more.
Client Experience Analyst
For creative consultants wondering how to improve client experience, hiring an analyst is a wise consideration. Analysts are able to identify and compile key insights that the untrained eye can easily overlook. They use cutting-edge technologies and strategies to gather high-value data, allowing them to define high value clients, the lifetime value of clients, and ways of improving the consumer experience.
Tips for Building a Top-Level CX Team
1. Gather Insights First
Many creative consultants assume that hiring a client experience manager is the correct first step. But in actuality, this isn't the case. If you hire a manager before you've gathered a substantial amount of data, your manager will have little to work with. This is why hiring an analyst is a better choice. Your analyst will be able to deep-dive into your existing processes, data collection methods, and frameworks, providing you with the facts and figures you need to begin building customized, high-impact solutions.
2. Have a Clear Vision (And Communicate It)
The more steadfast you are in your strategic objectives, the more likely you are to have a cohesive and collaborative team. Your client experience professionals will be more motivated and committed to their work if they understand the greater purpose of their roles. Include your team in brainstorming sessions, goal planning, and problem-solving. Give everyone an opportunity to provide constructive input. You'll overcome obstacles so much faster!
3. Don't Disregard The Power of Passion
Some employees take a rigid, "find it and fix it" approach to their jobs. These individuals are less likely to engage in visionary thinking or come up with "outside-the-box" solutions to challenging problems. While there are professional roles where a more pragmatic and calculated working style is a benefit (computer programming, for example), when it comes to client experience, there is incredible value in hiring individuals who are passionate about serving your clients and providing them with service that is second-to-none.
And, last but not least, remember to get out of the way!
All of these tips become null and void if you aren't willing to step back from working in your business and commit to fully embracing a leadership role. You must be ready to trust the skilled and capable team members you hire.
There you have it! You're now better-equipped to begin building a client management team!
Your Move
Are you ready to make the shift from consultant to CEO? Do you want to start delegating client experience responsibilities?
I teach creative entrepreneurs how to fearlessly lead teams, vendors, and outsourced providers with clarity and conviction!
Would you like to connect with other creative consultants in a supportive and collaborative environment?