Get free updates of new post here.


When it comes to scaling your business online, there is a sea of endless strategies to assess if it's the right fit to structure your business and maximize operational efficiency for agencies.
You can outsource your tasks, you can hire a team, automate your workflows, systemize your business, structure your client intake cycle to a specific timeframe, analyze your data and performance, the list can go on.
It becomes complicated when you're getting hyped up information from industry leaders telling you "This is what you need in order to scale" or "It doesn't need to be complicated", and then they teach you how to do it the shortcut way. While a lot of these strategies are being framed in a fancy light that give you serious FOMO, it doesn't always work because it's a quick-fix solution to get you over the next hump (whether it's 6 months, or 1 year) and impacts your mindset around sustainability.
Getting Started with Operational Efficiency for Agencies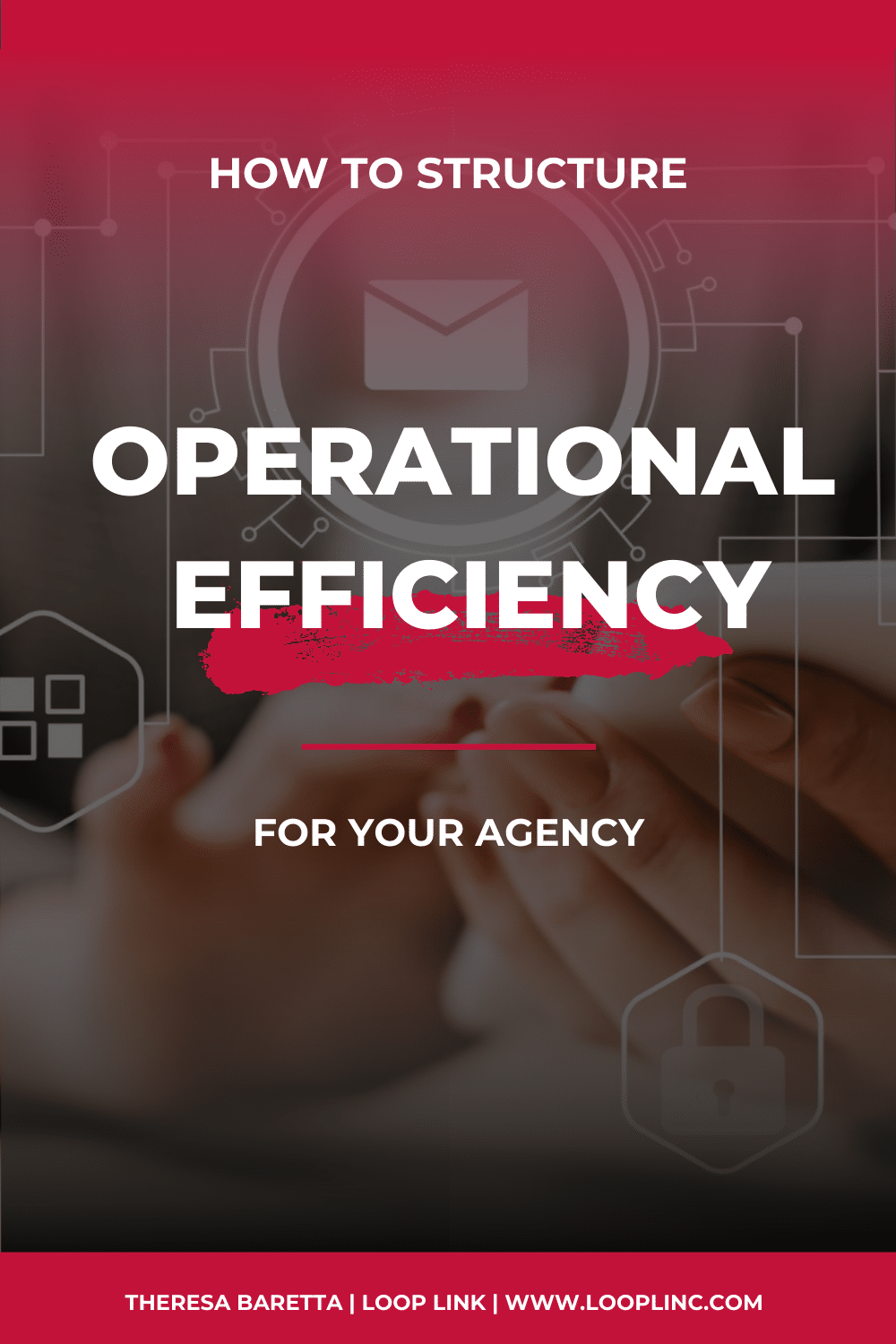 What they fail to tell you is that the more you change your systems, structures or solutions over, it impacts your standards of excellence, sustainable growth, and ultimately your client experience.
But before we get too far ahead, let's take a look at why you would want to have operational efficiency in place for your agency.
You're ready to hire a team.
You're already leading a team.
You're at capacity for how many clients you can handle.
Your team is maxed out at how much they can produce.
Whatever stage you are in your business, you need a structure that promotes systems, but also efficiency in your agency.
Instead of long-term success with systems, what I've been seeing is a relapse when businesses adopt or create systems that aren't improving their efficiency. If anything, it disconnects and confuses them more.
Operational Efficiency for Agencies is a long-term vision.
Many of the issues, I've seen, begin with hiring someone to document your systems and workflows, without understanding the bigger picture. The founders don't have a clear vision with the end in mind; what is beyond the rainbow. In fact, after the system is created and functions for a period of time, you could end up feeling more confused in how to complete the loop in your systems and how to transfer it beyond yourself.

Whatever stage you are in your business, you need a structure that promotes systems, but also efficiency in your agency.
Many systems are abandoned once they're established and end up collecting dust. Large corporations are notorious for this. Small businesses are notorious for the countless pivots. Why does this happen? It's because there's a gap in completing the loop, and to build it on a solid foundation. There will be a time during the implementation period where teams will have one foot in the past processes, and one foot in the new processes. It'll feel overwhelming. It'll feel like it's not working, and things are falling through the gaps. This is the breaking point; if you can move past it, you will achieve operational efficiency.
Here are my 5 approaches to structure operational efficiency for your agency.

Step 1: The Efficiency Vision
One of the most well known foundations that lead to operational efficiency are systems. Systems aren't only a quick fix to your immediate problem. Systems done right is a lifestyle, and a mindset.
Laying the right foundation and vision for business systems will limit relapse of old ways and behaviours.
Many people KNOW that's what they need to do in order to scale their business, but I want you to think deeper.
What are the primary goals why you want to have an efficient business?
By having your backend operations efficient, effective, and elemental, what would that do for you? What are you hoping to achieve? Why do you want to achieve it?
Get to the root of these questions. Develop your answers. Build your vision and clarity around that. Because if YOU don't buy into it first and foremost, your team will not buy into the vision.
Do you have a strategic roadmap that connects with your vision?
I've been surprised by how many business owners who have confessed through our deep work that they haven't built a strategic roadmap because it felt restrictive. This is like preparing for a voyage where you will run out of supplies before you reach the destination because you weren't prepared by forecasting for weather, sickness, detours, etc. In business, if you don't take the time to outline and plan for your systems that work for you for at least a period of 3 years, you will be impacted by bottlenecks, redundancy, workarounds, and worse; loss of revenue. Strategic roadmaps capture all of these risks and impacts so you can consider the detours efficiently.
Step 2: Best Practices
Bottlenecks surface in the absence of best practices and policies.
They are the killer of productivity and efficiency because when there is a lack of clarity, your team hesitates to take action; or if decisions are deferred to you, you may end up being the very bottleneck to provide solutions.
A great scenario to consider would be your refund policy.
This is a standard concept that all businesses should be familiar with.
Many businesses feel that they're protected if their refund clause is a part of their contract. While contractually, this is true. However, if it is out of sight, it is out of mind, clients may not be familiar with your refund clause is, and what they are qualified for.
If your refund policy isn't clearly articulated to your clients when they are coming on board, they will either be afraid to ask for a refund, or push for a refund distastefully.

I recently ran into a scenario where a client had a customer come on board, paid their initial deposit, only to request a refund within 3 days of coming on board. The known refund period in this case was 60 days. The client refused to provide a refund because the end customer had a withdrawal period. The end customer was confused at the lack of confirmation on why this couldn't be provided. Team members weren't responding because they were confused about the process because they couldn't find the documentation anywhere.
This type of scenario happens on a daily basis across all levels of business.
Best practices and policies shouldn't live in the mind, but also in a space that can be reached by all participants:
On your website for clients and prospects
Standard Operating Procedure for team members
Promote efficiency by being clear with the boundaries that you, your team, and clients can work within.
Step 3: Role Definitions
As you grow your agency, it's important to clearly outline and define who plays what role in your business.
It's easy to create positions because as CEOs, we're being taught to delegate.
But what exactly is being delegated? Are you simply delegating a task, or a responsibility?
Roles can empower growth in your business, or it can cause a storm.
When you started your business, you were wearing all the hats.
What does that truly mean? It means, not only, were you performing tasks that ranged from sales to bookkeeping to client fulfillment, you were wearing the hats of a Sales Manager, Sales Representative, Bookkeeper, and Customer Support Representative. Each "hat", although have specific tasks, there is also specific knowledge that this role manages.
Delegation takes planning, and when you delegate a task, you should also delegate the knowledge and responsibility.
Recently, I helped a client hire a Marketing Coordinator. When we began the hiring process, she was hoping to delegate some of the tasks that she was performing that sucked up a lot of her time. Tasks included: facebook ads, sales funnels, email marketing, and social media management.
Jumping the gun she sourced help on Fiverr without clearly defining the scope of the role; was it going to be project based, or is this going to be a team hire. We got applicants who were the wrong fit, or were too much on coaching/strategy instead of implementation and execution. This was causing added stress and that dreaded feeling that she was going to be stuck with it forever. Once we backtracked, got clear on the role definition and built a job profile, we knew exactly who we were looking for, and the role we were hiring for.
Taking the initiative to plan up-front will save you time, resources and energy. Once you know who you're looking for, you can also prepare for your team/contractor onboarding to your agency with ease.
Step 4: Deep Work
One consistent thing I've noticed repeatedly in agencies is that their team is constantly battling distraction from social media, other team members asking questions, clients, etc. These distractions may not be long, but they add up over the working hours, days, and even weeks. It impacts the level of production and efficiency that shows in your bottom line at the end of your fiscal year.
So how do you empower your team to be distraction-free and focused on deep work?
Here are some ways to do this.
Schedule "do-not-disturb" hour. This is a scary concept for a lot of teams. It's also a concept that if applied correctly, not only will it boost efficiency, but the team culture and morale as well. Allowing team members to take scheduled blocks of time for them to focus on meaningful work will get the work done faster, with less distractions, leaving everyone feeling accomplished.
Promote "No". Everyone wants to achieve success and often feels that they must say "yes" in order to attain it. "Yes" to hustling, "yes" to extra hours to get the work done, and "yes" to "can you do this for me". When you empower your team to say "no" when their plate is full, or when they are on their time off, or vacations, this says that you value them, their time and efforts, and that the whole team works together to deliver on the vision and client experience
Step 5: Measure Progress
Checking in with your team gives you the 30,000 ft view of where things are currently at in your business, and provides the platform to discuss any challenges, celebrate wins, and process improvement conversations. Your team is on the ground every day running the daily operations, and they are the highest stakeholders when it comes to your business processes and efficiency.
Depending on the dynamics of your agency, check-ins can happen daily, or weekly. Keep in mind to promote efficiency, the meetings themselves should be structured to focus on the core objectives.
Have meeting organizers gather requirements and prepare agendas.
Someone should always be capturing meeting minutes for references, and action items need to always be assigned. Request for follow up dates and have them scheduled immediately so all parties involved will have clear deliverables.

Your Move
Operational efficiency for agencies doesn't have to be a struggle. It can be achieved intentionally and meaningfully. When there is clarity between productivity (doing more with less) and efficiency (doing the right things with the least amount of wasted time and energy), it will help you pick the right approach that aligns with how you want to structure your agency.
When should you start structuring for operational efficiency?
Don't wait to start. Set the standards from the beginning.
Dedicate the next two hours to perform an intentional audit on where you are at with your agency through this Automated Agency assessment. Go slow to go fast.
Come over to our Free Exclusive Community where you can find support from other CEOs on the same journey.