Get free updates of new post here.

Client feedback is one of the most crucial loops to complete for any service-based business. As entrepreneurs, it is so easy to fall into the trap of viewing our business from one perspective (our own), which ultimately leads to analytical inaccuracies.
One of the most detrimental mistakes business owners make when implementing a client feedback process is focusing on one or two touch points along their client journey, rather than asking for feedback at multiple points (in different ways).
We want to not only gather input from clients when they reach a particular milestone. We want to gather this input incrementally along their client journey, as it allows us to better understand how their perspectives, emotions, and pain points change over time.
Fortunately, there are a multitude of client touch points that can provide business owners with more in-depth and valuable feedback.
Today, I'll be sharing a few of the most commonly overlooked feedback opportunities, and sharing some strategic tips for maximizing results.
Let's get started!
The 3 Most-Forgotten Client Feedback Touch Points (And How to Capitalize On Them)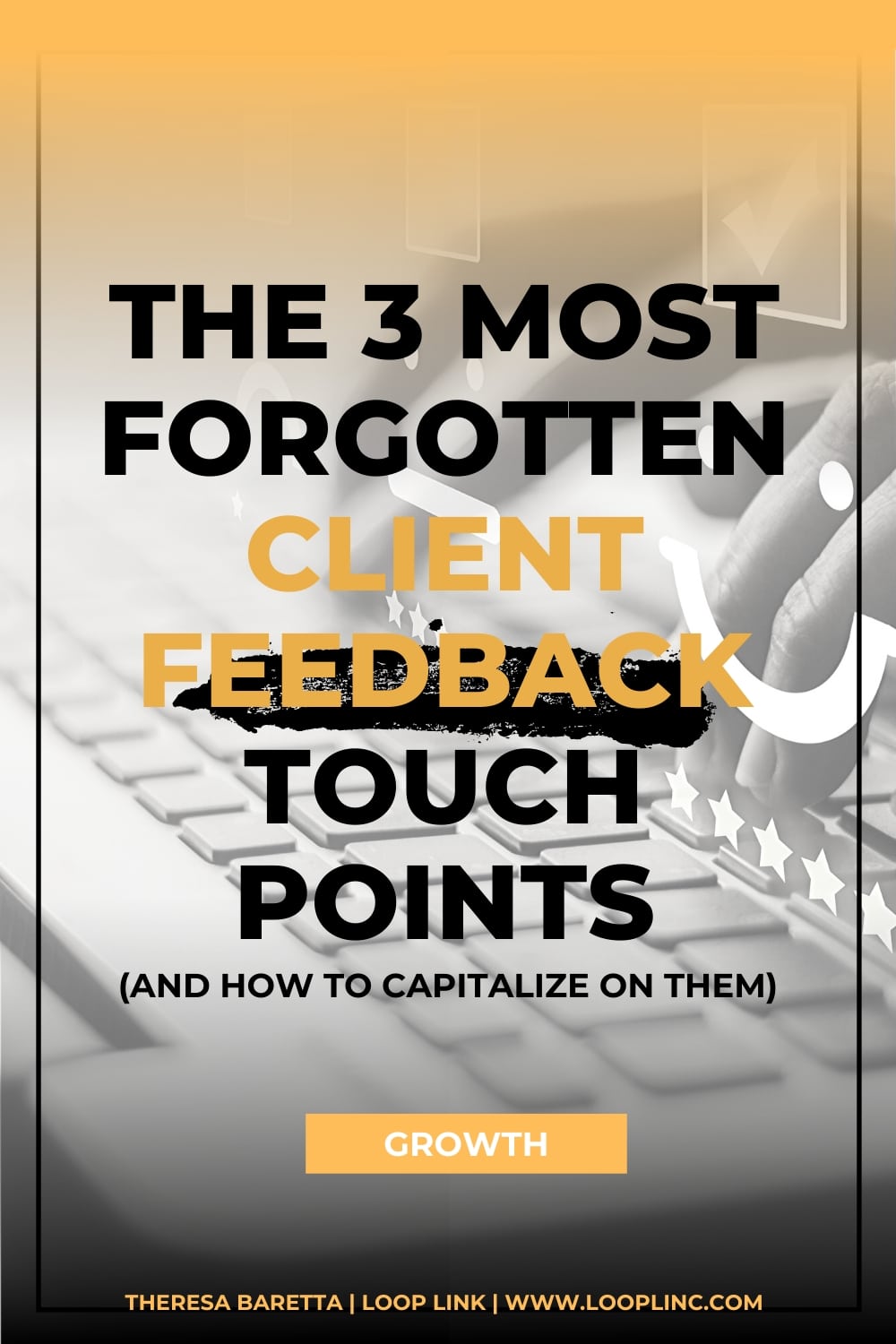 1. Pre-Launch Surveys
Have you ever expanded your service offerings or launched a new service without first determining if your target market would be interested? Most entrepreneurs have at some point in their career. And while this doesn't necessarily mean your launch will be a flop— it does reduce the likelihood.

Pre-launch is one of the most valuable client touch points in terms of feedback. It allows you to gain insights from the people who would be most inclined to invest in your product or service.

But in order to truly understand what would make your services more appealing (and what would deter a potential client from purchasing), you need to facilitate the conversation effectively.

TIPS FOR GATHERING PRE-LAUNCH FEEDBACK:
Select a focus group of 5-10 people (who match your ideal customer persona)
Ask them to review your major competitor's services (What do they like? What puts them off? What are their thoughts on the price point? Branding? Etc.)
Ask your focus group what services they feel are missing within your target market
Get the group to analyze your new service offerings (What are they most excited about? What is their first impression?)
Give control over to your focus group (If you could change anything about this service, what would you change? If you were marketing this service, what would you highlight or promote most?)
2. Post Account Creation Surveys
Do you provide an online platform or website where your clients can log in and access information, services, etc? If so, this is a fantastic opportunity for getting client feedback.

After your client has set up their account and explored the various features and capabilities of the platform, they'll likely have some thoughts on their user experience.

Asking a client for feedback within a day or so after they've established their account is most effective, as this is when the experience is top of mind. Why not strike while the iron is hot?

TIPS FOR GATHERING POST ACCOUNT CREATION FEEDBACK:
Send an survey via email 1-2 days after the account is created (Extra points if you automate this process!)
Keep the survey short and succinct (5-10 questions)
Ask questions related to UX (Was the platform easy to navigate? Were the instructions clear? What was going through your mind while you set up your account?)
Ask questions about design (Were the fonts readable? Were the icons/visuals helpful? Etc.)
Ask questions about functionality (How quickly were you able to complete your desired task? Did the platform/app/site load fast enough? Etc.)
3. Midway Mark Project Catch-Up Calls
I'm a huge advocate for midway mark catch-ups. They are one of my favorite client feedback strategies for service-based businesses. In general, people tend to be most motivated and excited about a project in the beginning and at the end (when results are about to be delivered). But when we're in the midst of putting in the elbow grease, our enthusiasm tends to taper off.

Personally, I view midway mark catch-ups as not only an opportunity to gather valuable client feedback on how their experience has been to date, but also as an opportunity to keep the excitement alive!

TIPS FOR GATHERING MIDWAY MARK FEEDBACK:
Schedule a telephone or video call (A personal approach works best for major milestones)
Prepare your questions in advance
Ask questions related to communications (How satisfied are you with our communication process? Do you feel we are responsive? Have we adequately updated you throughout the first phase of your project?)
Ask questions related to timelines (Are you satisfied with the progress thus far? Have we communicated any potential delays or setbacks effectively? Etc.)
Ask questions related to process (Have you encountered any roadblocks when seeking support from us? Do you have any concerns about our invoicing or payment processes? Etc.)
Next Steps (What to Do With The Feedback You've Gathered)
Data is powerful. And we all know the saying— "With great power comes great responsibility."
As business owners, it is our responsibility to utilize the data we gather from clients to further enhance our service delivery.
How?
By incorporating this data into our future SYSTEMS, STRUCTURES, and PROCESSES.
Creating (or Updating) Your Client Experience Manual
A client experience manual is a formal, detailed booklet that can be used by all members of your team to deliver a cohesive and consistent client experience to every individual you serve.
The key to maximizing the impact of your client experience manual is to use the feedback you gather from your clients to keep it as relevant and up-to-date as possible.
The more data-driven your client experience manual is, the more effective it will be.
I've Done The Work (So You Don't Have To)
I've created a downloadable and fully-customizable client experience manual business owners can use to WOW future clients.
This comprehensive manual includes:
Checklists
SOPs
Templates
Swipe Files
Plus a short "How-To" video to walk you through the document step-by-step!
It's everything you need to create the unforgettable experience your clients deserve.
Are you ready to WOW your clients?
YES, I WANT THE CLIENT EXPERIENCE MANUAL
Your Move
Unsure how to implement these solutions within your team?
Do you need an extra hand with team management?
Come over to our Free Exclusive Community where you can find support from other CEOs on the same journey.