Get free updates of new post here.

The vast majority of savvy creative consultants understand the importance of identifying customer needs. After all, it is the primary component of any effective CX strategy.
Conducting a client needs assessment is the first step to developing an experience that will appeal to your target market and build brand loyalty. These assessments allow creative consultants to dive deep into the psyche of their potential clients and gaining a clear, comprehensive understanding of what they want.
But what about what they DON'T want?
When developing a client experience strategy, familiarizing yourself with the aversions of the individuals you serve can be just as advantageous as getting to know their affinities.
The Value of Identifying Dislikes When Developing Your Client Experience Strategy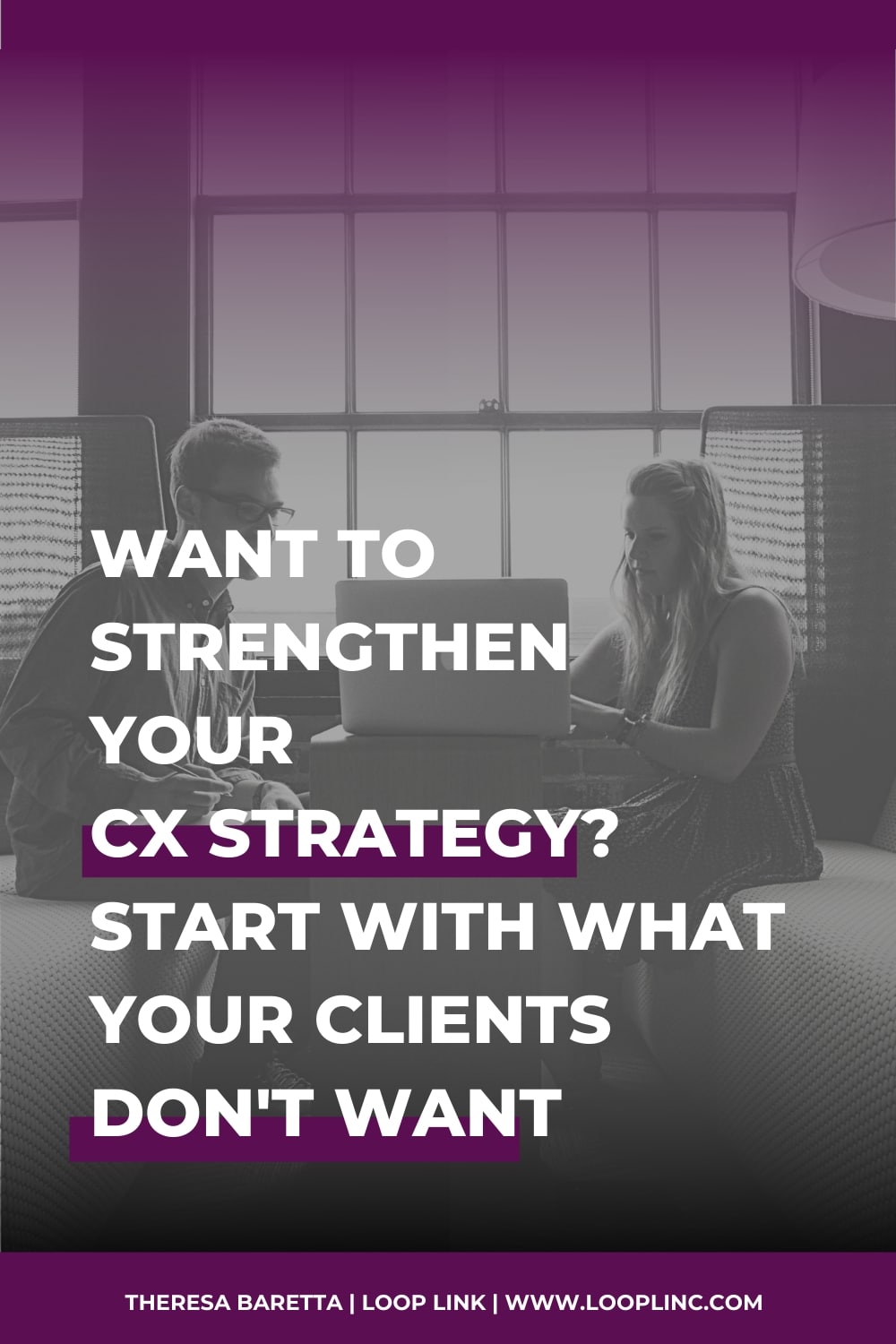 Let's look at this from a different perspective.
When dating in hopes of finding a romantic partner, we rarely have a clear vision in our mind of our ideal partner. And when we do find the person we want to spend our lives with, they are almost never everything we thought we wanted.
What we DO often have when we begin our search, however, is a list of personality traits, physical attributes, or behaviors that are deal breakers.
Whether we refuse to take someone who doesn't share our sense of humor, someone who has a significant amount of financial debt, or someone who isn't interested in having children— what we DON'T want is often much more concretely defined than what we are interested in.
This same concept applies to client experience.
Your clients know what they aren't willing (or would prefer not) to accept from the brands and businesses they engage with. And when we align our client experience strategy with the deal breakers of our target market, we greatly increase our likelihood of success.
How to Determine What Your Clients DON'T Want
The process of identifying client aversions is very similar to the process used when conducting a client needs assessment.
Here is a general outline:
1. Prior Experiences
When identifying customer needs, we often ask about other brands or businesses our ideal clients view fondly or have had positive experiences with in the past.

To identify their deal breakers, we can take a simliar approach, but ask about brands or experiences our ideal clients have been dissatisfied with.

Try posing survey questions like: "When was the last time when you were disappointed by a brand or business? What happened?" or "Why have you stopped supporting brands or business in the past?" to gain a better understanding of the previous interactions your potential clients have been unhappy with.
2. Communication Styles
One of the most important client experience tips is to always consider how your ideal customer prefers to communicate—or, in this case, how they prefer NOT to communicate.

You can do this by sending a brief e-mail survey to existing clients or by having new clients identify methods of communication they don't like during your onboarding process.

Remember to include questions like:
Do you enjoy receiving SMS text messages from the businesses you support?
Are you an avid social media user? Which social media platform is your least favorite?
What types of communications are you least interested in receiving? (Discounts, sales specials, educational tips and tricks, company newsletters, etc.)
What is the maximum amount of times you want to be contacted by a brand in a single month?
Which communication method are you least fond of? (Telephone calls, emails, texts, online chat, etc.)
3. Customer Behavior Analytics
The proof is always in the pudding. One of the accurate ways to determine what your clients DON'T want is to analyze the decisions they have made when interacting with your brand thus far.

Are your engagement rates dramatically higher on Instagram than they are on Facebook? Do you have a product or service that doesn't isn't selling as well as others? Is your conversion rate low despite getting a lot of traffic to a sales page on your website?

Taking the time to study how your potential customers are navigating through your sales cycle and engaging with your brand will always be worthwhile. This is the most credible and reliable method of understanding where the gaps are in your client experience, as well as understanding what your target market doesn't want.
What to Do With The Information You Gather
Below are a few steps you can take to implement your findings to improve your client experience:
Align your branding with the dislikes of your ideal client. For example, if your client identifies dishonesty as one of their deal breakers, highlight your commitment to transparency.
Communicate the dislikes of your clients to your team members and encourage them to share ideas on how your CX strategy can be adjusted to better suit the preferences of your target market.
Ensure future services and products are designed and marketed with any deal breakers in mind.
Evaluate your sales process to ensure every touch point is aligned with the dislikes of your ideal clients.
Identify ways to improve your customer service by eliminating practices that do not meet the preferences of your ideal clients.
Eliminating any potential red flags in your client experience strategy will ensure potential customers move seamlessly through each stage of your sales cycle, build trust in your brand, and demonstrate how committed you are to satisfying the clients you serve.
Your Move
Are you ready to start delivering a 5-star client experience? I would be happy to recommend the best strategies, structures, and systems for your unique needs.
I'll ask you insightful, personalized questions to gain an in-depth understanding of your business, your current operational outlook, and your greater goals. Then I'll provide you with a customized game plan that will turn your hopes into realities.
THERE'S NO OBLIGATION TO BUY.
Consultant calls are FREE and all about providing you with clarity! No strings attached.
Come over to our Free Exclusive Community where you can find support from other CEOs on the same journey.