Systems are important for growing your business and growing your team. When I started implementing systems – not only in my own business but in my client's business – it was evident why SOPs are important for scaling business and to become an unstoppable CEO. If you're aiming for productivity, excellence, and success, you're on the right path. However, these can only come if you and your team members are working together toward the finish line.
SOPs are the first step toward that unified approach to your business goals. I promise you this; if you start to create and use your SOPs on a regular basis, you'll start seeing incredible growth! Your mindset will shift, along with your team members' mindsets, and together you'll become an unstoppable team.
Companies that don't have SOPs experience bottlenecks in their workflow. And usually, the CEO becomes distracted by day-to-day redundancies like client work and deadlines. Your vision is being buried under the day-to-day tasks. Rather than focusing on creating goals and strategy for the business, you're just trying to keep up and put out fires. Does that sound like you? If so, make SOPs your first priority this coming week!
What is an SOP?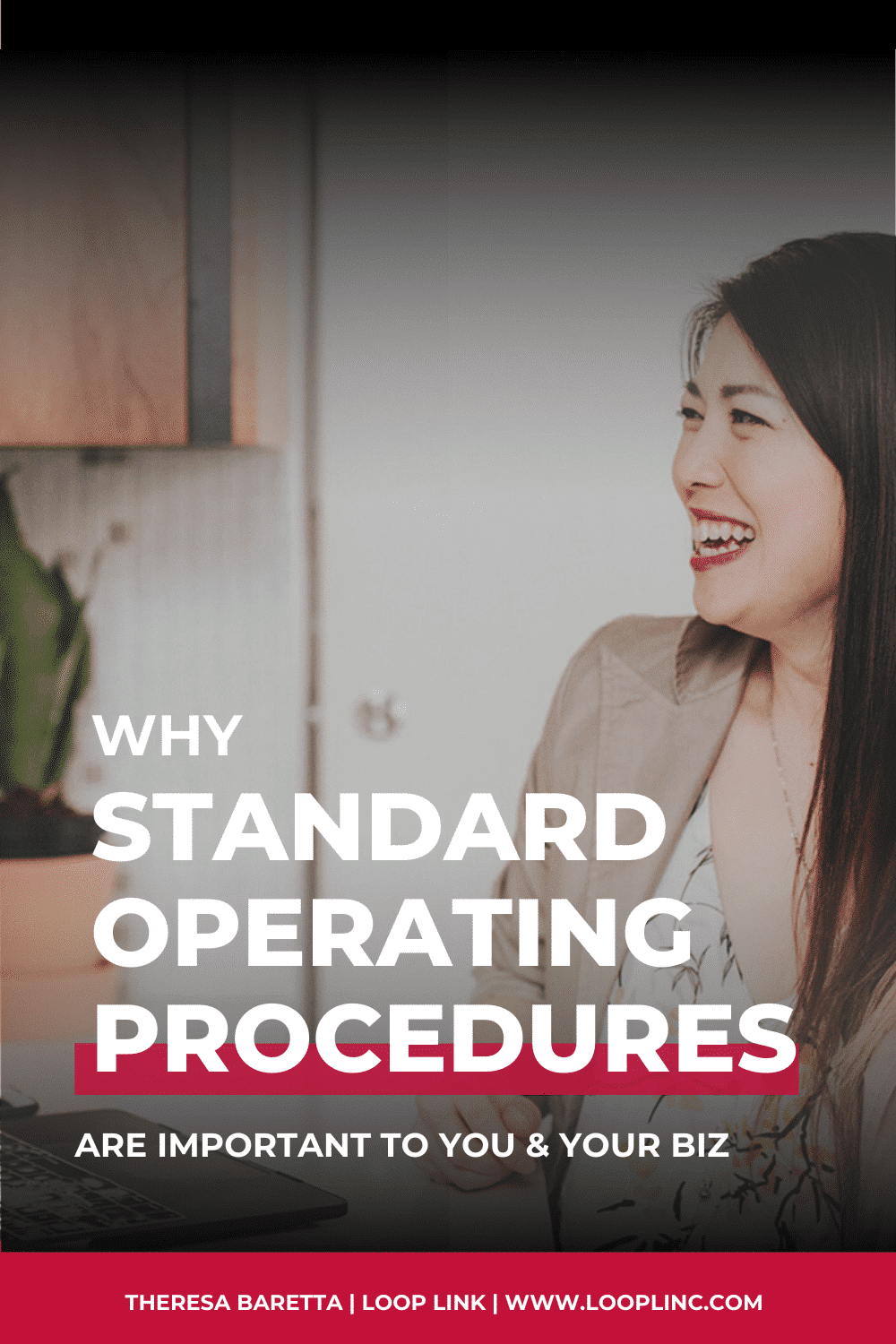 You may be sitting here wondering what an SOP is. SOP stands for Standard Operating Procedure. Great, but what is it actually? Well, an SOP provides your company with step-by-step instructions that guide you and your team through your workflow. These can be formatted as a:
Flowchart or process map
Numbered Checklist
Screenshots or Video tutorials
Documented Manual
Interactive Tool
But no matter how it looks, it's meant to guide you and your team to produce positive results more consistently. Your whole team will enjoy the benefits of a consolidated workflow and systems that create predictable results and clearly defined expectations.
Do You Know What's Broken in Your Business?
Are you overlooking the broken procedures in your business? Can you see them in your daily activities? Or do you just look past them because they're "a regular part of business"?
It's important that you give your team the tools to be successful. If you don't, you're setting them up to fail and you're setting yourself up to spend a lot of extra time on fixing mistakes.
Imagine it like this: The owner of a construction business gives his employees the tools to build a house, but not the instructions for how to do it. Or, the hospital a surgical team works at has no procedures in place in case something goes wrong during surgery. Don't let your clients go under the knife when you don't have procedures in place. By giving your team a clear SOP for each of their daily activities you can fix these broken procedures, set expectations, and guide your team to success.
Business Continuity
In business, time is money. We all want to find ways to use our time for business as efficiently as possible, which allows us to spend more time doing things we love with people we love. Often, orienting new team members is one of our most time-consuming tasks or team coverage.
When you have SOPs already in place, all you or another team member needs to do is use the relevant SOP and step in for the absent team member. That means you'll be ready for smooth future growth. You'll no longer have to spend unnecessary hours – or days – training team members on each process and every workflow. In other words, you don't have to reinvent the wheel every time you hire someone new! With an SOP, you already have a ready-made manual to hand over to new hires that will guide them through each task.
Create a Standard of Excellence
When you use SOPs, not only will you experience savings, but your clients will absolutely love that you can save them both time and money as well. Strong SOPs allow you to guarantee solid workflows and consistent procedures, delivering the same customer experience every time. You no longer have to question the quality of the work or if it's actually 'done'. Your procedures tell everyone what 'done' looks like.
Exceptional Customer Experience
SOPs aren't just for your business practice and growth. Creating SOPs for your clients as you navigate long and complicated projects is what makes you stand out and look like an expert. They can also build incredibly strong and lasting client relationships. Your client-facing SOP can tell clients:
The Communication plan
Billing expectations
Project Logistics & Expectations
When a client knows what to expect, he or she is more likely to stay on board with you for the long-term. And we all want more long-term clients, right?
Have Your Team Assist in Creating SOPs
The best way to get SOPs in place in your business is to get it done between two people: the person who holds the knowledge, and the person who's capturing the knowledge. Often, the best way to set up SOPs is to take input from the people who are completing the tasks each and every day. Ask them what's working and what's not, and together, you may be able to find better solutions!
Your Move
Having clear SOPs is absolutely essential to helping your business grow and scale, and helping you become an unshakeable CEO. While they take time to create, they'll unquestionably help you, your team and your clients get the most out of the business.
Come over to our Free Exclusive Community where you can find support from other CEOs on the same journey.