Get free updates of new post here.

There is a quote by business leaders like Margaret Fuller that I love.

"If you have knowledge, let others light their candles in it."

To me, it's an invigorating reminder that sharing knowledge is a vital duty for all business leaders.

Without the willingness of others to share their stories, lessons, and experiences, entrepreneurs (and humankind as a whole) couldn't advance and achieve the previously unachievable.

I think this is a truth that all of the greatest entrepreneurs not only understand, but live by.

And since I am deeply passionate about investing in others so they can be who they were called to be, sharing knowledge is one of my greatest joys and priorities as an Operations Coachsultant™, and it's also what helped me to define my own fractional leadership.

This is why I've decided to share a little wisdom from some of the inspirational business leaders I've learned a lot from over the years.

These lessons were invaluable along my path as an entrepreneur. I'm hopeful they will benefit you—my valued readers—just as greatly!
3 Successful Business Leaders (And The Lessons We Can Learn From Them)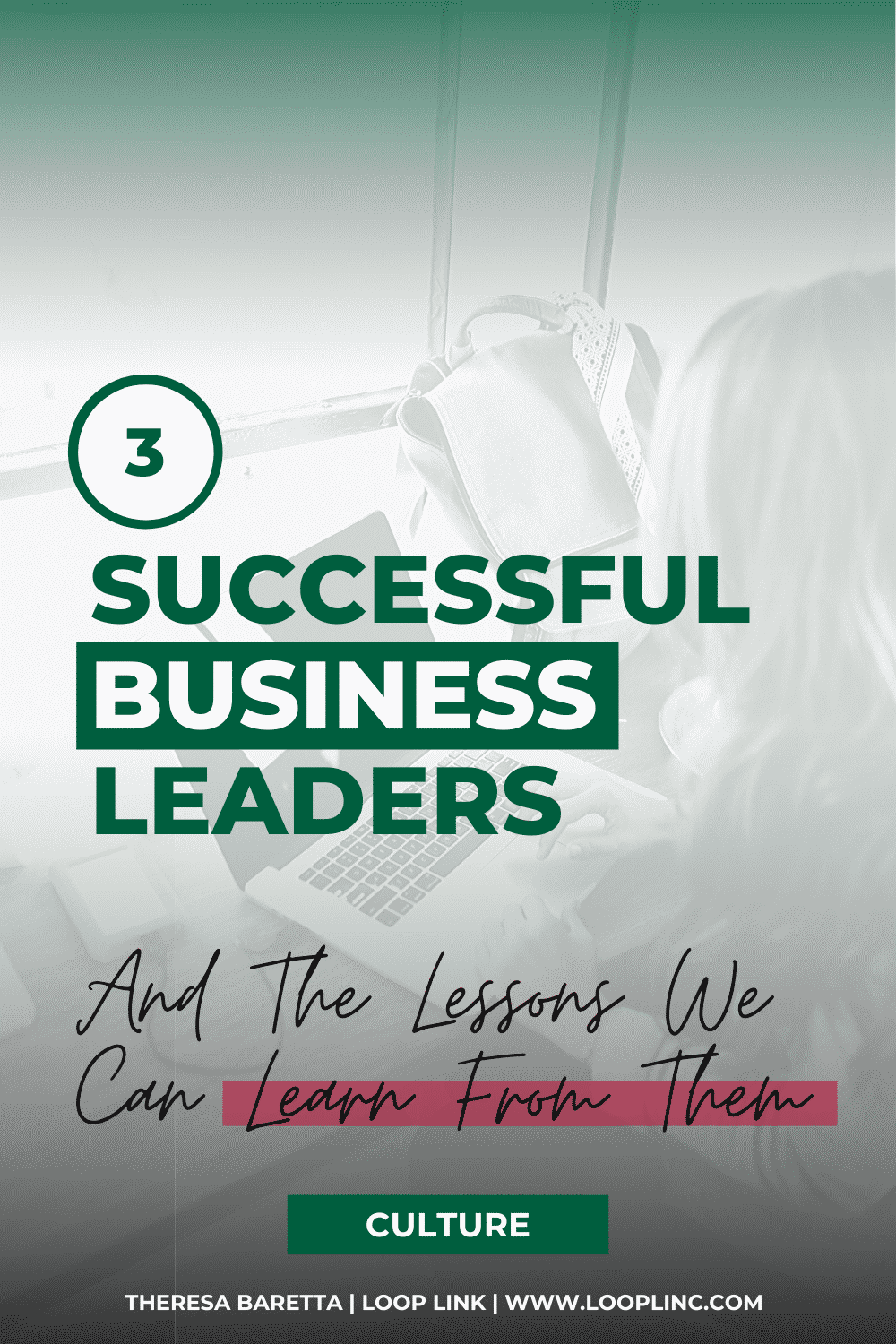 Simon Sinek is not only among the most influential business leaders in America— he is also a motivational speaker and author. Simon has made it his mission to, as he puts it on his website, "help advance a vision of the world that does not yet exist; a world in which the vast majority of people wake up every single morning inspired, feel safe at work and return home fulfilled at the end of the day".

Simon shares his knowledge in books, TEDTalks, media interviews, online courses, and around the world wide web.

WHAT WE CAN LEARN FROM SIMON SINEK: CREATING CIRCLES OF SAFETY

The concept of "circles of safety" is one that has stuck with me every since I read Simon's book, Leaders Eat Last, several years ago.

This strategy is centered around the fact that neurochemicals (endorphins, dopamine, serotonin, oxytocin and cortisol, specifically) play a role in how people feel—and ultimately perform—at work.

When people are stressed, worried, afraid, or pressured at work, it becomes increasingly difficult for them to make meaningful contributions to their workplace.

By creating "circles of safety", where team members can communicate without fear of ridicule or retribution, feel safe and supported, and focus on making the best possible decisions for the future rather than dwelling on the past, business owners can increase productivity and create a company culture employees genuinely enjoy being part of.
Tim Cook is the world-renowned Chief Executive Officer at Apple and served at the company under the legendary Steve Jobs before assuming his current role.

Tim is known for his unwavering dedication to innovation, outside-the-box thinking, and collaboration. He has often been quoted as saying it is Apple's goal to "leave the world better than when we found it"— and that is a hope that, undeniably, all entrepreneurs should hold dear.

WHAT WE CAN LEARN FROM TIM COOK: THE IMPORTANCE OF INCLUSION

When asked about his guiding principles, Tim once had this to say:

"Treating people with dignity. Treating people the same. That everyone deserves a basic level of human rights regardless of their color, regardless of their religion, regardless of their sexual orientation, regardless of their gender. That everyone deserves respect. I'll fight for it until my toes point up."

And there's no question that his perspective is on the mark.

According to a study by Glassdoor, 67 per cent of job seekers consider workplace diversity an important factor when considering employment opportunities and more than 50 per cent of current employees want their workplace to do more to increase diversity.

Tim's alignment with the values of today's society is certainly one of the countless traits that placed him among the Top CEOs in the world.
Safra A. Catz is the CEO of Oracle Corporation, a multinational computer technology corporation that was valued at more than $39 billion in 2019.

Before taking on the role of CEO at Oracle, Safra was a director at Peoplesoft Inc and HSBC Group. Today, she also sits on the board of directors at The Walt Disney Company.

Safra is one of the most successful business leaders in the United States, as well as the country's top earning female CEO.

WHAT WE CAN LEARN FROM SAFRA A. CATZ: LEADING WITH TRANSPARENCY

It is indisputable that Safra has an endless wealth of knowledge to share with aspiring business leaders. Even successful entrepreneurs should be taking a page from her book.

There were so many gold nuggets to choose from when selecting my favorite lesson from Safra, but I kept returning to this quote from an interview with Forbes:

"You can recover from being stupid, but you can never recover from being a liar. Integrity is a perishable asset, and once it's gone, it's gone for good."

Many businesses have been brought to their demise by dishonesty. The debacle that befell Voltswagen in the Spring of 2016, after embellishing how environmentally-friendly their "clean diesel" cars were, is a great example of this. It's a lie that caused stock in the company to drop by a whopping 30 per cent.

Safra is protecting the future of Oracle (and the prosperity of all those who are involved in the business) by refusing to compromise on honesty and integrity. How inspirational is that?
How Will You Leverage These Lessons?
The gift of knowledge from the greatest entrepreneurs of our time is not one to be wasted.

I highly encourage you to consider how you can complete loops within your own business by using these lessons to guide your operations and leadership decisions.
Interested in Gaining More Knowledge From Other Business Leaders and Luminaries?
Your Move
Unsure how to implement these solutions within your team?

Do you need an extra hand with team management?

Come over to our Free Exclusive Community where you can find support from other CEOs on the same journey.