Get free updates of new post here.

You've noticed a gap within your client experience. Maybe a client concern fell through the cracks or a specific component of your client journey isn't functioning as well as you'd like it to.
As a result, you've started searching for easy-to-implement CX tools that can fast-track your improvement process. (Such a great idea!)
CX power tools are a great way to make immediate, tangible, and worthwhile improvements to your client experience in a relatively short amount of time.
Today, I wanted to share my 5 favorite miracle tools with you in hopes they'll benefit you as much as they've benefited me.
Each tool is affordable, user-friendly, and offers a ton of value.
Let get right to it!
5 CX Power Tools to Start Using Today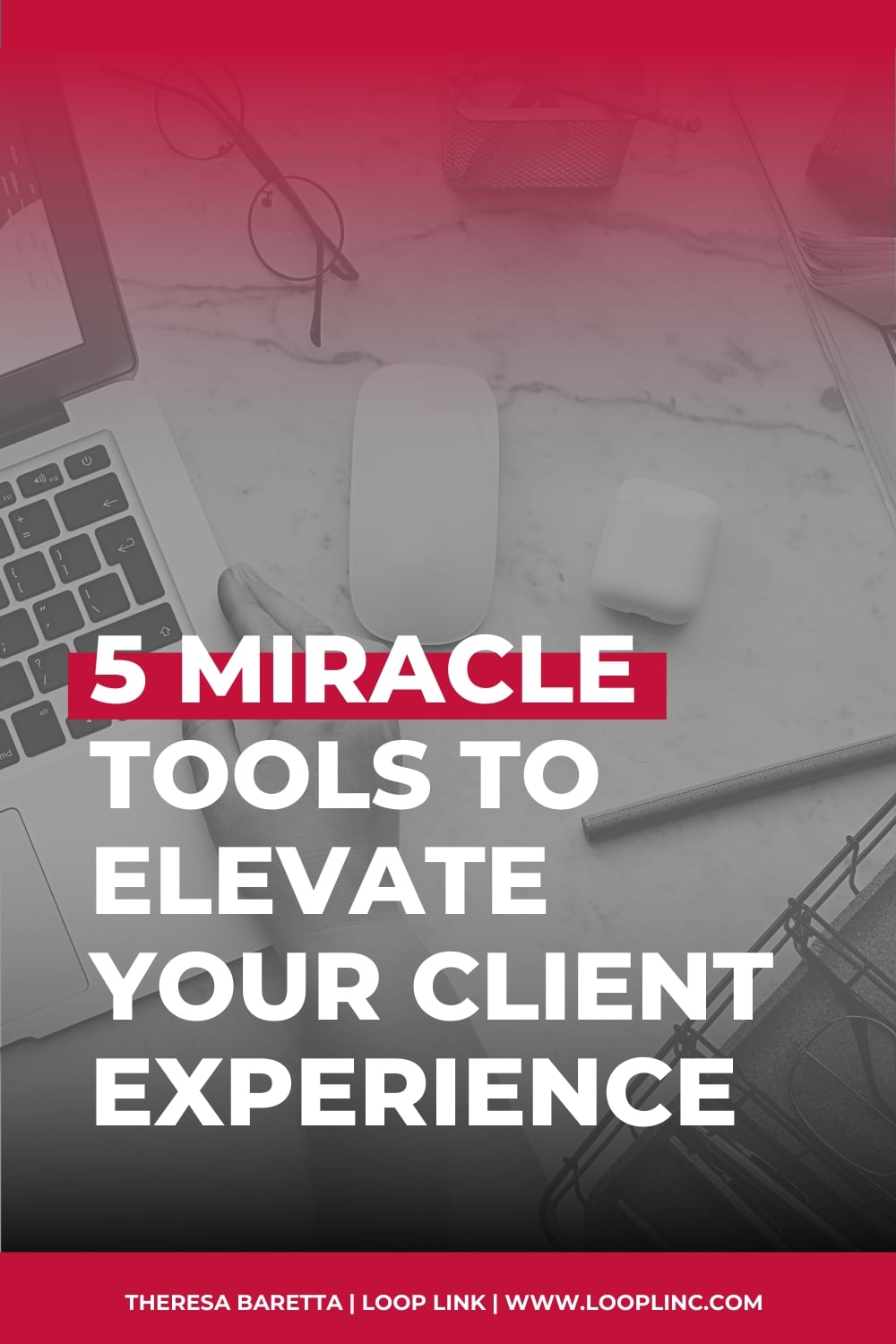 Gumroad makes selling digital products a breeze and is a popular client experience technology amongst creative consultants, CEOs, and contractors. It allows users to set up a customized landing page for their product in a matter of seconds, add that landing page code to their website, easily accept payments, track revenues, and even set up automatic workflows (great for upselling and personalization).

But what makes Gumroad even more appealing is the price. Creative business owners with less than 1,000 customers pay just $10.00 per month!
RingCentral allows entrepreneurs to answer their phone calls from any device. You can also flip calls between your devices (if you answer your call on your cell phone, for example, you can then flip it over to your desktop with a single tap and continue the conversation without interruption). Plus, since RingCentral uses carrier minutes, Wi-Fi, and cellular data, you never have to worry about power outages. You're always connected and your clients can always reach you.

FiveStars is a rewards program software that makes it super simple to offer customized loyalty rewards to your clients. This tool can instantly transform your client experience management process, bringing high-impact bonuses to your valued customers and boosting your client satisfaction rate.

Whether you want to offer clients a free add-on service, a discount on their next purchase, or an exclusive promo deal, you can make it happen with FiveStars. Plus, you can set up automations so deals and discounts are sent automatically (client birthdays, 1-year service anniversaries, etc).
Bringing your clients together is a powerful way to build a stronger sense of community around your business or brand. Many creative CEOs, consultants, and contractors use a Facebook group or Reddit to create these online forums/communities— but these solutions do not offer detailed analytics or full customization capabilities.

Vanilla is a CX power tool that allows entrepreneurs to create a branded customer community. This community integrates seamlessly with your existing website (your clients won't even know they've left your site) and is also mobile friendly.

Within your community, you can host Q&As, poll your clients for feedback, create and share a knowledge base, and view real-time analytical data like new discussions, comments, users, page views, visits, etc.
Employee training is arguably the most important aspect of client experience management. If your team members aren't adequately on-boarded and shown the ropes, you'll be left to rely solely on your systems. And while systems are amazingly effective, they aren't the magic solution for everything.

Lessonly is a customer service training software unlike any other. With this tool, you can ensure each team member you hire is aware of your client experience expectations and equipped with the knowledge and skills required to meet those expectations.

Within Lessonly, you can create practice mock-tickets, chats, emails, and phone calls from clients and have your trainee respond to them. Or set up Trigger Practice scenarios based on your trainee's performance to address weaknesses and strengthen key skills.
Plus, you can also customize learning pathways for specific roles and departments within your business.
The tools and systems we use are critical to the success of our businesses. If you've been thinking about how to improve your client experience and struggling to come up with a strategy that can help turn your vision into a reality, I highly encourage you to give these platforms a try.
In many cases, our client experience goals and even our approach is absolutely correct— we just aren't using the best CX tools for the job.
Your Move
You can now access my full library of INTENSELY DETAILED STEP-BY-STEP INSTRUCTIONS for optimizing your systems and scaling your business.
There are 80+ SOP Templates in total!
Pairing these SOPs with the right tools is a foolproof formula for success.